About Vineet
Know Vineet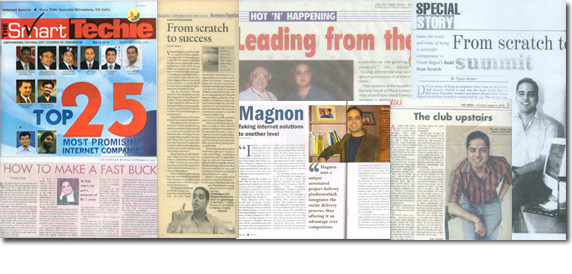 Every few years an entrepreneur, a business Guru comes by who changes the fabric of the game. Who breaks barriers of rules, age, legacy and time. Who leads with such brilliance, knowledge and energy that every individual or organization that comes in contact is almost carried along on that trail of success. Vineet Bajpai is one such 'Achievement Anchor'. He is one of the finest management thinkers, career development motivators and corporate trainers in India today.
A beacon in the world of young entrepreneurs in India, Vineet has astounding accomplishments to his credit. Apart from being a widely respected Human Resources and Leadership Development trainer and a sought after career counsellor in India, he is the Founder and CEO of Magnon Solutions, one of the largest Digital Media companies in India. Vineet founded this company at the young age of 22, with a couple of hundred dollars and two rented computers.
Today Magnon employs nearly 150 people, has offices in New Delhi and Mumbai (India), with extensive international operations via his second group company, Magnon International. Magnon has been recognized as a luminous growth story in the Indian Digital Media industry by various newspapers, magazines and television channels and was recently ranked among the top 25 Internet companies in India. Vineet continues to lead Magnon Solutions and Magnon International as Founder and Group CEO.
There can be no better business and organizational teacher than a successful corporate CEO who decides to impart his hard earned experience through the channel of academics. Vineet is the author of the widely acclaimed book 'The Street to the Highway', which is a book for budding entrepreneurs and owners of small businesses. This book was released in January 2011 and sold its entire first edition on the very first day! It continues to be a top seller and will soon be an Indian bestselling management book. His first book 'Build From Scratch' was again a bestseller which is a powerful trainer for every budding entrepreneur across the world.
Vineet has been featured by CNBC TV18 in their popular program 'Young Turks', where he was featured as being among the most successful young entrepreneurs of India. He has also held career guidance features on other Indian TV channels like Doordarshan, Zee and Channel 7.
The book (Build From Scratch) is an astonishingly practical and useful guide for budding entrepreneurs, management students, the corporate community and working
executives – Delhi Mid-DayBajpai knows a thing or two about entrepreneurship – Business StandardHow to make a fast buck…Vineet Bajpai. He knows what its like… – The PioneerVineet Bajpai…distinguishes his work in a subtle way – The HinduVineet Bajpai….the self-propelled neo-tycoon… – Times Of India
Apart from being an entrepreneur, a management advisor and an active leadership trainer in Delhi, Mumbai and other major cities of India, Vineet is the President of the Lal Bahadur Shastri Institute of Management Alumnus Foundation (the institute is ranked as one of the top 20 B-Schools in India) where he represents nearly 2000 corporate managers.
He is also on the Panel of Advisors of the Institute and also a member of its 'Vision 2015' Committee. He is on the Board of Directors/Advisors of many organizations. He has also been previously nominated for the IIM Lucknow – Lakshmipat Singhania National Leadership Award.